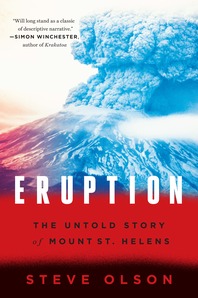 Eruption
The Untold Story of Mount St. Helens
Description
Survival narrative meets scientific, natural and social history in the riveting story of a volcanic disaster.
For months in early 1980, scientists, journalists and ordinary people listened anxiously to rumblings in the long quiescent volcano Mount St. Helens. Still, when a massive explosion took the top off the mountain, no one was prepared. Fifty-seven people died and the lives of many others were changed forever.
Steve Olson interweaves history, science and vivid personal stories to portray the disaster as a multi-faceted turning point. Powerful economic, political and historical forces influenced who died when the volcano erupted. The eruption of Mount St. Helens transformed volcanic science, the study of environmental resilience and our perceptions of how to survive on an increasingly dangerous planet.
Reviews
"With 1,500 potentially active volcanoes worldwide, this is an urgent reminder of the need for advances in the field." — Nature
"... Olson is a gifted science communicator…" — Physics World
"Steve Olson not only tells their personal stories, but also turns the tension between the science and the cultural assumptions at play on that day into a drama that reads like a tragic thriller." — Boardman Tasker Award for Mountain Literature 2016 Shortlist, UKClimbing.com
"In Mr. Olson's telling, [the survivors'] stories read like urgent fiction… These vignettes lend a human face to an event that has become associated largely with geology." — The Wall Street Journal
Awards
Winner — Washington State Book Award, 2017